​​​​​​​​San Diego Scuba Center
Where Friends and Treasures Abound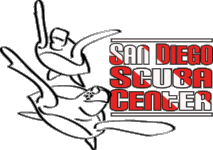 We Start A Scuba Class Everyday

of the Week (Seven Days a Week)
​​​​​Text, Call or email us
(619)850-5752
The only "All-Inclusive" Scuba Course in San Diego - Best Course Price in Southern California
To begin yourcourse click here and enroll im the elearning to start!
PADI Assistant Instructor Course
Overview
Congratulations on your interest to become a PADI Assistant Instructor with San Diego Scuba Center. There's nothing more exciting and gratifying than teaching others about the fun, adventure and excitement of diving. This course will likely be one of the most challenging diving programs you'll take and at the same time, it will be one of the most rewarding.
​
Prior to the first scheduled session, you'll need to complete the nine PADI Online Independent Study sections outlined below. You'll then participate in four days of training which will include knowledge development presentations, confined water skill circuit evaluation, classroom/confined water teaching presentations and open water skills evaluation/rescue assessment.
Your key to success in this course is to be prepared and willing to learn new information, new techniques, and the various "Formulas for Success." Our job is to do everything possible to help you to become the best Assistant Instructor you can be and ultimately get you prepared for the Open Water Scuba Instructor course.

So get ready for the time of your life. We look forward to helping you succeed in you pursuit to become a PADI Assistant Instructor. Please feel free to give us a call, text or email if you have any questions.
To enroll in the AI course you must:
Have dive leader certification – PADI Divemaster or leadership-level certification with a recognized recreational diver training organization and be either:

a. an instructor member in good standing, or...

b. a diver with proof of certification in diver supervision and management including proof of rescue diving certification; 60 logged dives; documented experience in night diving, deep diving and underwater navigation.

Be at least 18 years of age.

Provide proof of medical clearance attesting to dive fitness signed by a physician within the previous 12 months. The physician signing the form may not be the applicant.

Have been a certified diver for at least six months and have completed and logged at least 60 open water scuba dives (as documented in your log book) and have documentation of experience in deep, night and navigation diving.

Submit proof of EFR Primary and Secondary Care course completion (or qualifying training) within the past 24 months.

Submit documentation of any equivalent certification for entry-level, advanced, rescue and leadership-level training if the certification was issued by another recreational diver training organization.

Successfully complete the PADI Divemaster course diver rescue skills assessment, if not a PADI Divemaster.
Prior to the start of the program, you must have the following current PADI materials
Note: You will need to own a either a current hard copy or (when available) touch product
Instructor Manual

PADI's Guide to Teaching

PADI Specialty Course Instructor Manual, or these specialty course instructor guides: Peak Performance Buoyancy, Project AWARE and AWARE-Coral Reef Conservation

PADI Open Water manual

Recreational Dive Planner – RDP Table and eRDPml, including Instructions for Use booklets

How to Use and Choose Dive Computers book

Open Water Diver Quizzes and Exam Booklet

Advanced Diving Manual

Rescue Diver Manual

Rescue Diver Final Exams Booklet

PADI Divemaster Manual

Divemaster Final Exams Booklet

Aquatic Cure Cards – Confined Water, Open Water, Adventures In Diving, Rescue, Divemaster and Discover Scuba Diving

Confined Water Lesson Preparation Slate

Open Water Training Dive Lesson Planning Slate

The Encyclopedia of Recreational Diving

Diving Knowledge Workbook or eRecord for Dive Theory Online
To successfully complete a PADI Assistant Instructor program, you must meet the following performance requirements:
Complete the following Online Independent Study sections, found on the PADI website.
Note: There is a separate fee for this service:

a. Learning, Instruction and the PADI System
b. General Standards and Procedures
c. Risk Management
d. Marketing Diving
e. Start Diving
f. Teaching PADI Specialty Courses
g. Business of Diving
h. Keep Diving
i. How to Teach the Recreational Dive Planner (RDP) Note: this is optional for current PADI members but required for crossover candidates

Participate in the following IDC curriculum components:

a. Course Orientation
b. Developing Knowledge Development Presentations

i. Knowledge Development Teaching Presentations 1 and 2
ii. 4 E's Counseling Workshop 1

c. Teaching in Confined Water

i. Skills Demonstration Workshop
ii. Confined Water Teaching Presentations 1 and 2
d. Conducting Open Water Dives
i. Open Water Teaching Presentation 1
ii. Rescue Exercise Workshop

Present two knowledge development teaching presentation, scoring a minimum of 3.5 on at least one.

Present two confined water teaching presentations, scoring a minimum of 3.4 on at least one.

Present one integrated (two skills) open water teaching presentation, scoring a minimum
of 3.4 on each skill.

Perform all 24 dive skills in the Skill Evaluation, scoring a minimum of 82 total points, with no individual score below 3.

Score 75 percent on the PADI Systems, Standards and Procedures Exam and have any missed questions reviewed until mastery is achieved. A retest will be required for candidates scoring less than 75 percent.

Complete the PADI Divemaster course – Diver Rescue assessment in open water.