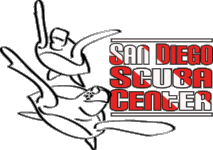 We are your only "All-Inclusive" program" in San Diego
Text or call us today for the current price (619)850-5752
We can be reached by text anytime
We offer the PADI Open Water Diver Course
Follow these simple steps to begin your adventure with us today!
​
Sign up for the course with San Diego Scuba Center by Stopping by the store, emailing or just Call or Text us (619)850-5752 anytime day or night.
​
You may sign up in person or simple text a request for invoice via email and save the time and gas.
Complete the "PADI eLearning" program before the start date of your course which when course is paid for will be available to begin Day or Night. Be sure to read material, watch videos and complete all knowledge reviews, quizzes and the final exam prior to the first day of class and pool. Print out the certificate of completion and bring with you
​​
You must print, review, fill in and sign all the forms below with the following information. Please completely review and bring to class signed and dated :Please contact us if you have any questions.
Participants name:
Your Name
Store/Resort/Facility:
San Diego Scuba Center
Instructor(s):
Jesse L Dean Jr et. al.
Forms to print: Must be completed prior to start date, please read and follow instructions on the medical form. Please get copies of completed forms to us before the start date.
​
​
​
​
​
​
​
​
​
​
Our Store Location:
Pirate's Cove Bonita
4101 Sweetwater Road
Bonita, California 91902
Schedule your 1 day Class/Pool Sessions
Times:
12:00pm(noon)-5:00pm any day of the week(Monday-Sunday)
Location:
Pirate's Cove Bonita
4101 Sweetwater Road
Bonita, California 91902
What to Bring:
Swimsuit
Towel
any personal equipment you may have
Completed forms from above
Medical signed by doctor if so required, call if you have questions about the medical.
​
Please have a good Breakfast and bring any snacks you may need for the day.
Schedule your 2 days of Ocean Dives
​
Times:
6:00am-10:30am any day of the week(Monday-Sunday)
Location:
La Jolla Shores, Kellog Park
2100 Vallecitos
La Jolla California 92037
What to Bring:
Swimsuit
Towel
any personal equipment you may have
​
​
​
​
​
​
​
​