​​​​​​​​San Diego Scuba Center
Where Friends and Treasures Abound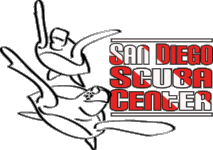 We Start A Scuba Class Everyday

of the Week (Seven Days a Week)
​​​​​Text, Call or email us
(619)850-5752
The only "All-Inclusive" Scuba Course in San Diego - Best Course Price in Southern California
Have you always wondered what it's like to breathe underwater? If you want to try scuba diving, but aren't quite ready to take the plunge into a certification course, Discover Scuba Diving is for you. PADI dive shops offer this program either in a pool, off a beach or from a dive boat. You can try scuba close to home or while you're on vacation at a dive destination. While not a scuba certification course, Discover Scuba Diving is a quick and easy introduction to what it takes to explore the underwater world.
Be the scuba diver everyone wants to follow because you know where you are and where you're going. The PADI Underwater Navigator course fine-tunes your observation skills and teaches you to more accurately use your compass underwater. If you like challenges with big rewards, take this course and have fun finding your way.
The lure of the deep. There's something exciting and mysterious about exploring deeper dive sites while scuba diving. Sometimes it's a wreck that attracts you below 18 metres/60 feet, and on wall dives it may be a giant fan or sponge. Whatever it is, to scuba dive with confidence at depths down to 40 metres/130 feet, you should take the PADI Deep Diver Specialty course.
The thought of dipping below the surface at night seems mysterious, yet so alluring. Although you've been scuba diving at a site many times before, at night you drop into a whole new world and watch it come to life under the glow of your dive light. The scene changes as day creatures retire and nocturnal organisms emerge. If you've wondered what happens underwater after the sun goes down, sign up for the PADI Night Diver Specialty course.
It happens: People accidentally drop things from docks, off boats or even while scuba diving. If you've ever lost something in the water and wanted to go find it, then the PADI Search and Recovery Diver Specialty course is for you. There are effective ways to search for objects underwater that increase your chances of success. And there are good and better methods to bring up small, large or just awkward items. Search and recovery can be challenging, but a whole lot of fun.
Much of the world's best scuba diving is accessible only by boat. Whether you've never made a boat dive or you've logged dozens, the PADI Boat Diver Specialty course will benefit you because boats in various parts of the world do things differently. Scuba diving from a boat is fun and relatively easy because you usually descend directly onto your dive site.
The PADI Drift Diver Specialty course teaches you how to enjoy going with the flow as you scuba dive down rivers and use ocean currents to glide along. It feels like flying – except that you're underwater using scuba equipment. Drift diving can be relaxing and exhilarating at the same time. If this sound like fun, then the Drift Diver course is for you.
Want to stay warm? Want to extend your scuba diving season? Then dive dry. A dry suit seals you off from the water and keeps you comfortable, even in surprisingly cold water. There is incredible diving in the world's cooler regions and in some areas, conditions are even better in colder months. Becoming a dry suit diver allows you to expand your boundaries and dive more places, more often.